Country Music People Magazine
Congratulations to Artie Rodriguez for making the cover of May's 2014 issue of Country Music People Magazine! This issue will be contain and 5 page article in reference to Artie being one of the newest artist out there today keeping REAL country music alive!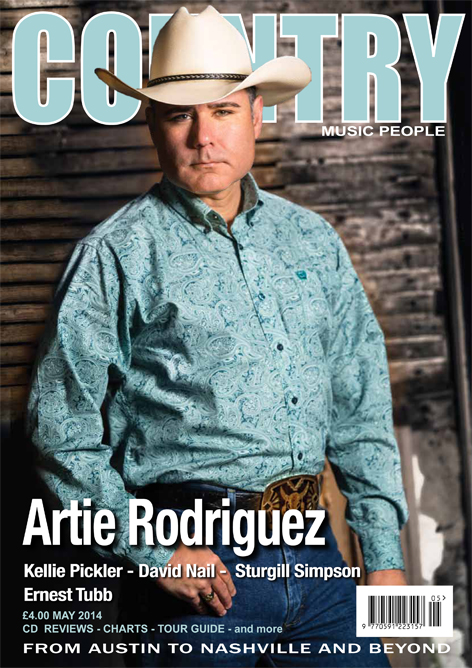 News Herald - Panama City, FL

Crooning Deputy: Lawman by day, country star by night
August 02, 2010 07:02:40 AM
By Jennie Hobbs
Florida Freedom Newspapers
MOSSY HEAD - Beneath the badge, Deputy Artie Rodriguez is a "Lone Wolf with a Crying Heart."

As Walton County's very own "Singing Deputy," Rodriguez counts himself among a dying breed of old-school musicians.

"I'm country, I'm country," He said. "Traditional country, fiddle and steel, is dying. There are only a few artists out there now on the radio that is considered traditional country. My heart is with traditional country."

When not performing duties as a school resource officer at Walton County High School, he plays as much as possible. But "as a deputy sheriff, I can't just be going and playing at the local bar," Rodriguez said.

So he can be found at The Panhandle Opry on the first and third Saturdays of the month, fiddling, picking and singing with the Opry's Porter family. Patriarch Gordon Porter and wife Corinne on lighting joins son, Michael, grandsons Gordon Michael and sometimes Eli, along with son-in-law and bassist Bo Curry, drummer Larry Webster, vocalist Lynne Martin, Ron Bryson on steel guitar and lead guitarist Buddy Lawrence. Lawrence has been playing with Gordon since the '70s.

Tucked away among Mossy Head's live oaks, the iconic music hall — just north of Interstate 10 and west of DeFuniak Springs before crossing over the county line — provides Hee Haw style family-friendly entertainment.

"Cleanest country music around," Rodriguez said of the Opry, which doesn't allow booze, profanity or smoking. "It's a nice little place where families can get out and don't have to get a babysitter because you can bring your kids with you."

The current building was built almost three decades ago in 1982.

"If you have never been to the Panhandle Opry you have got to see it. When I first went out there, I was like, 'I cannot believe this is out in the middle of the woods,' " he said.

Rodriguez acknowledges that part of his draw is his ability to deliver honky-tonk tunes with Spanish verses.

"There just isn't too many Hispanic country music singers who have the country twang, too," he said.

Rodriguez first captured the national spotlight during the era of President Bill Clinton. He was invited to Washington, D.C., to perform his original tune, "Forget His Memories." The song was written in honor of his father, a former Korean Prisoner of War, Arthur Rodriguez. He performed it in front of 10,000 veterans at the 50th Anniversary War Commemorative Ceremony in 2000.

"I told them I'd go up there on one condition, if my dad could go, because he was the reason I wrote the song," Rodriguez said. "It's not going to be right for me to go up there and perform for the veterans and he's back here, so they said yeah, they would accommodate me."

The D.C. concert caught the attention of country artist Ty Herndon. Soon after that, Rodriguez hung up his badge and holster, took up the guitar and hit the road with Herndon.

"Sheriff Johnson wouldn't let me take a leave of absence, so I ended up leaving the Sheriff's Office because it was a once-in-a-lifetime opportunity," Rodriguez said.

As luck would have it, though, after nearly a year on tour, Rodriguez returned home to find a job opening. He was able to "slide back in" to the Sheriff's Office, but a few short months after his reinstatement, tragedy struck.

"I was on patrol in the summer of 2002, and I responded to a shots-fired call, when a drunk driver ran a stop sign and hit me while I was en route," Rodriguez said. The accident earned him a Purple Heart.

Although the former Marine and paramedic was out of work for a few weeks with a fractured vertebra, he never let go of the music.

"I still continued to song write and perform music here and there," Rodriguez said. "God gave me a talent, so I figured I'm going to try and use it for the most part if I can."

Rodriguez's newest goal is learning to play the fiddle, which he began two years ago after finding the beautiful 100-year-old German violin stowed away in a closet. The instrument has been passed down through his wife, Kristen's, family.

For those unsure how to tell a violin from a fiddle, Rodriguez said it is easy.

"A violin has strings and a fiddle has strangs," he said.

His songs are laced with traditional toe-tapping rhythms accompanied by lyrics like, "My blue healer is going to heal my blues" and "She Loves George Jones." Ideas usually hit him while driving down the street.

"I write on anything I can find, a notebook or a note pad, even the back of a McDonald's bag," Rodriguez said. "When you get a good hook on a song and come up with a good idea — RA-POW!"

Currently, Rodriguez is working on a CD with MasterMix Recording Studio in Marianna. It is expected to be released later this year.

"When he comes forward and sings, people swoon," said Estus Whitfield, an Opry regular.


 
ERG Music Nu Country Trax
Nu Country Trax - Volume 150
September 20, 2011
 
Congratulations Artie Rodriguez! Twang Thang Music's independent country artist made the final cut for ERG Music's Nu Country Traxx album. This album will be sent out to radio stations across the US & overseas. He will join other artist such as Brad Paisley, Luke Bryan, Craig Morgan & Sunny Sweeney on the album. This artist is definitely keeping country music....COUNTRY!! Congrats Artie!
Country Music People Magazine UK